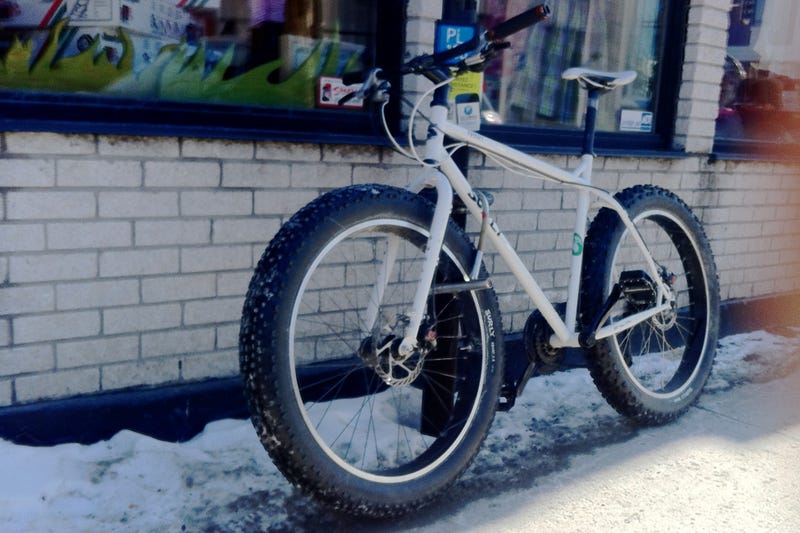 Fat is in.
Like 29er bikes, cyclocross bikes, and track bikes before them, "fatties" – bikes shod in under-inflated tractor tires that roll over sand and snow – are the new fashion accessory for the urban hip and fit.
It wasn't when I spotted my first "fattie" in the wild last week, locked up on a thoroughfare in Montreal's Williamsburg/Bushwick, that it dawned on me. It wasn't the obligatory New York Times trend piece, either, which features gems like this:
"It's opening a new way to be outdoors," Chris Estrem, a Ketchum physical therapist, backcountry skier and world bicycle traveler, said. "It's made me a better mountain biker. I want to ride it all the time. I love it."

Tory Canfield, who started an organization called the Fat Bike Advocacy Group, said: "For me, fat biking on snow creates a sense of ethereal floatiness that conjures up the sensation of powder skiing. As soon as your tire rolls forward, your mouth turns up into a big, fat grin. It is nothing short of fun."
Or the time fat bikes made local news this winter. Or the fact that you can now buy one at Walmart. Or the fact that there's now a National Fat Bike Championship, which just went down this weekend.
It was when I spotted this couple in matching Kona Wo fat bikes and lycra last weekend, huffing up a head of steam at a stoplight (because tsé, fat bikes are probably not meant for asphalt):
They'd better go make some room for them now, at the back of their garage. Because the next time they'll be ridden, fat bikes will be vintage — and their future progeny will be grateful for their inheritance.