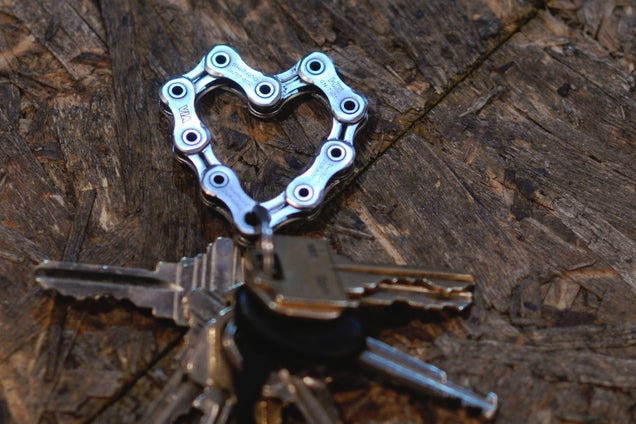 S
This Valentine's Day, make your favourite bike fiend a keyring charm that reflects their sophisticated cyclist sensibilities.
Sure, Etsy is full of this stuff, but they're mostly made from generic crap chains. If you want something that looks like jewellery, you'll need some fancy chain. These feature hollow rivet pins and elaborately machined links – anything to shave some extra grams in weight (and some extra bills from your wallet).
There are two ways to go about this: you can show off your DIY chops or you can work your charm.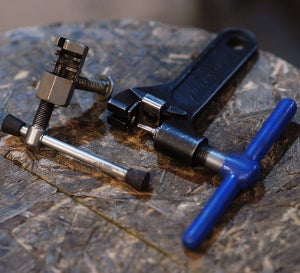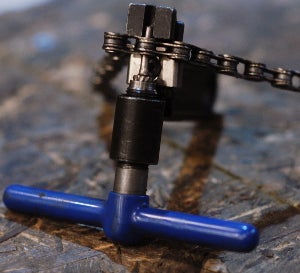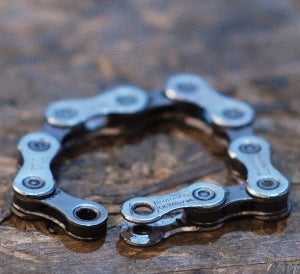 If you go the DIY route, you'll need to find a chain breaker (see an example of two to the left). Now, find some chain. Bike fiends often keep extra chain on hand so they can replace existing chains long before they're worn out. (Same with tires.) Or you can grab the chain off their garage queen bike—they probably won't notice until the summer.
Turning the handle on a chain breaker advances the tool's pusher pin, which is used to drive out the rivet pin on a chain (as shown in the second photo). Normally, you wouldn't want to pop out the pin, but in this case we don't care, because the key ring will pass through the chain link instead. Keep turning the handle until the pin pops out.
Alternately, you can mosey over to your local high-end bike shop and nicely ask for five or six links of chain. Since bike chains come in standard packages and are then cut to lengths particular to each bike's drivetrain, almost every chain installation leaves behind a few (clean) links. Ask for "Campy" Record or Dura Ace chain, and have them pop out the rivet pin on the end link.
Pass the key ring through the pin-less linkage and you're done!
[original photography via Broke in Mile End]